Things To Do In Milan | Activities In Italy

Things and activities to do in Milan
When you think of Milan, shopping tops the list of things to do in Milan. Although shopping is a big attraction without doubt, there is a lot more to the city than the fashion industry giants. It is a very typical Italian city in many ways, with its art galleries and beautiful architecture. You will also be able to have your taste buds pampered by some of the greatest Italian chefs. Take a look at our list of the top things to do in Milan and also find out which are the must-do activities in Italy.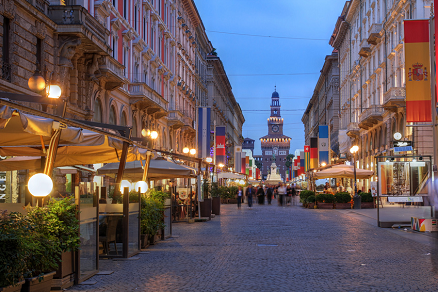 Top 12 things to do in Milan
Milan is known for the biggest and best brands in the fashion industry when it comes to clothes and shoes. However, if you think that's all you can do in the city, you are mistaken. Here is a list of the top things to do in Milan when you visit the city next time.
Look over the city from the roof of Duomo
Have dinner on the iconic city tram
Shop for classy clothes and accessories from the best fashion brands at the Golden Rectangle
Navigate the beautiful canal waterways at Navigli
Go on a gourmet Italian food trail in some of the best restaurants in the world, or share a simple local Italian meal with the locals
Escape the hustle bustle of the city in its parks
Drop by at Luini for a panzerotto, a triangle-shaped deep fried pastry filled with tomato and dripping with mozzarella cheese
Visit opera houses to enjoy classical and modern operas
Go art gallery hopping for a classic and modern art fix
Drop by at the San Siro Stadium, home to two football giants – AC Milan and FC Internazionale
Take the hop-on hop-off tour to explore the city with ease and cover all the important must-see locations
Visit the Museo Nazionale della Scienza e della Tecnologia, the impressive national science and technology museum
Keep this list handy on your next trip so that you make sure not to miss any of the things mentioned here and make the most of your visit to the beautiful city of Milan.
Special attractions and activities in Italy
Along with the top things to do in Milan listed above, there are a few extra ones that you should definitely experience when in the city. These are usually activities in Italy that you might be told about, but ones that can be experienced exclusively in Milan.
View the original Last Supper painting by Leonardo da Vinci and be mesmerized by its beauty
Stop by at the Cimitero Monumentale. Although a cemetery might not feature high on your sightseeing list, this one has to be seen to be believed
Visit the 10 Carso Como, a fashion and design emporium that has a unique quirky design and house a restaurant, gallery, a B&B as well as a bookstore.
Take in the optical illusion of Santa Maria presso San Satiro designed by the architectural great, Bramante. The nave looks over a meter deep, but is actually just 97 centimeters when you look at it closely
These beautiful masterpieces and spaces add to the beauty and charm of the city, striking a wonderful balance between the old and the new, the classic and the modern.
Enjoying Milan – What you need to know
Here are a few tips to help you enjoy the activities in Italy better when you are in Milan.
Plan your days beforehand so you can fit in everything in your schedule
Try everything local – food, hotels, art, books
Go with a good budget. You will be tempted by all the wonderful art, décor, food and fashion made available to you
Rare sights and experiences can make your next Milan trip much more amazing. Make sure to fit in as many of the activities in Italy on your to-do list as possible on your next visit to the city. You will not regret the extra time or money you spend exploring the city.
If you find this page helpful, share it.
Related Posts