Top 5 Reasons To Visit Amsterdam | Travel Expert Advice

Top 5 Reasons To Visit Amsterdam | Travel Expert Advice
Amsterdam the capital of Netherlands is a charming city with great attractions; these are the top 5 reasons to visit Amsterdam:
Enchanting Canals – Amsterdam is called the Venice of the North. It is a magical floating city through which over 100 canals weave and flow covering as much ground as it historic streets. These canals are connected by over 1000 bridges. The beauty of this visage is enhanced by the elm and lime trees that line canals.
Travel Expert Advice: When visiting Amsterdam, make sure to take a canal tour. There are many types of canal tours. You can walk or bike around the city to see the canals and bridges. This is not very strenuous as Amsterdam is a small city comparable to a village. You can also take a boat tour. There are many different types of boat tours from a lazy barge tour to a romantic candlelight cruise. These types of tours not only showcase the canals but also offer stunning views of the city line.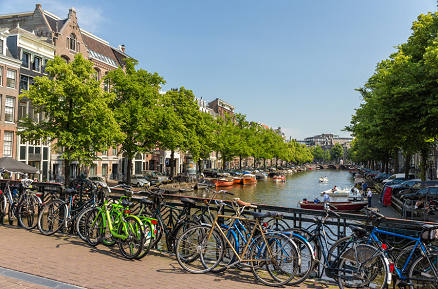 History and Architecture

– If you appreciate history and architecture, Amsterdam is a must see destination. Amsterdam has one of the largest historical inner city. There are nearly 7000 buildings and homes that are protected landmarks. Many of the monuments were built during Holland's Golden Age by merchants.
 Travel Expert Advice: Some historic highlights that are must see attractions for any individual that appreciates architecture are: the district of Begijnhof, which dates back to the 14th century, is the oldest inner court, The Oude Kerk, the city's oldest church of Gothic-style grandeur and the 17th-century Royal Palace of Amsterdam, which has a fascinating blend of styles. These are just some of the many history buildings and buildings to see and explore.
Wondrous world-class Museums

– One of top 5 reasons to visit Amsterdam is the museums. Amsterdam has many wondrous museums from traditionally styled museums that house national treasures to family friendly museums that bring history to life. Three great museums to visit are Anne Frank House that showcases the history of Anne Frank, the Scheepvaartmuseum, which offers an interesting nautical narrative and Rijksmuseum is home to many Dutch treasures including Rembrandt's Night Watch.
Travel Expert Advice: If you are travelling with older children make sure to visit the Amsterdam Dungeon where actors bring history to life through their roles of witches and torturers. If you are travelling with younger children, you may prefer the interactive exhibits at the NEMO Science Centre.
Illustrious Art and Artists

– Amsterdam is known for its loves of art – traditional and modern. The city's museums boast stunning works of art from renowned artists like Van Gogh and Rembrandt. There are also many museums and galleries that showcase modern artworks, to view and buy.
Travel Expert Advice: One of top 5 reasons to visit Amsterdam for any art lover is the Van Gogh Museum, which has the world's largest collection of Van Gogh works including personal letters. Also, visits Rembrandt House Museum, which used to be his 17th-century house and studio.
Unique Shopping Opportunities

 – 

If you like to shop and who doesn't, Amsterdam is an excellent place to pick up unique souvenirs. There are typical shops and outlets for all types of markets but the markets found on the cobblestone streets are the ones to visit and enjoy. These markets offer a cultural experience with local food, souvenirs and clothing.
Travel Expert Advice: The unique markets become the last of the top 5 reasons to visit Amsterdam. Even if you don't have time to visit all the market, try and make the time to visit Albert Cuypmarkt, the city's largest market and Bloemenmarkt, the world's only floating flower market that was founded in 1862.
These are just the top 5 reasons to visit Amsterdam. There are many other great attractions to see and festivals to visit.
If you find this page helpful, share it.
Related Posts