Las Vegas Tourism | Visit The Most Popular Shows In Las Vegas

Popular Shows In Las Vegas
Las Vegas, also known as the Sin-city, is the best destination to watch the most spectacular shows in the USA. Often referred to as 'Adult Playground' or 'City of Entertainment', Las Vegas' shows attract millions of tourists every year. From comedy and magic shows to music and dance events, the city has several venues that provide entertainment to all kinds of visitors.
What to Expect from the Shows in Las Vegas
Las Vegas shows take your entertainment experience up a notch. Shows featured here can be colorful with lavish and fancy costumes, enhanced with special effects that you may not see anywhere else. Most of the shows in Las Vegas start in the evenings after 7 pm. Some shows can have up to three segments, with intervals after each segment to allow guests to get some snacks and refresh themselves.
Popular shows in Las Vegas are almost always pre-booked. You may need to book tickets or get entrance passes in advance. If arriving to the city on a travel package, you can get your travel agency to book the tickets for you or can also book tickets for various Las Vegas shows over the internet. Find out all the details about the shows, such as its theme, timings and dress codes before you book tickets. Given below are names and details of some of the most popular shows in Las Vegas.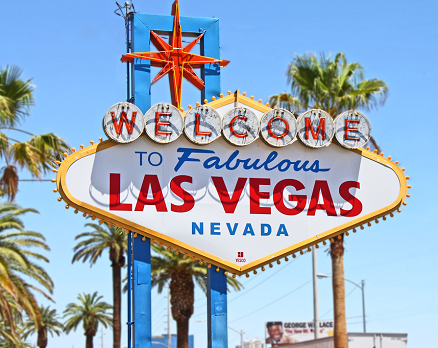 Cirque Du Soleil
Cirque Du Soleil is one of the most famous water-themed shows in the world. The show contains a wonderful artistry of theater, performed in and on the water by divers, synchronized swimmers, and top-class acrobats to provide you a breathtaking experience. It takes place at the Bellagio and ranks in the list of the top shows in Las Vegas.
"O" theatre by Cirque Du Soleil is inspired by the elegant and infinite quality of water's pure form. The main attraction of the show is the water pool, which is 25 feet deep and holds nearly 1.5 gallons of water. The pool is the stage that showcases the divers and swimmers as they perform various acts. The cast includes more than 70 artists from around the globe and the theater seats around 1,800 guests. Performances are regularly changed and guests are offered a new show every time they visit. Tickets need to be booked at least one hour before the show.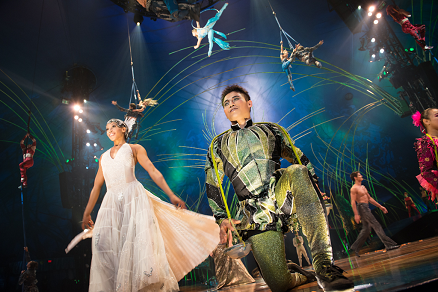 Blue Man Group
The Blue Man Group is also one of the most popular shows in Las Vegas that offers a unique sensation of presentation and performance to entertain the audience. Three men with their hands and faces painted in bright blue, lead the show. The trios perform silly tricks and dance routines on music that provokes laughter and thrills in the audience. The trio's combination of showmanship and oddity makes the Blue Man Group show a must watch.
The Blue Man Group show is held at the Monte Carlo Resort Hotel and Casino. The show is critically acclaimed for its combination of multi-media artistry, music, dance, comedy, and audience interaction to produce a completely unique entertainment experience. You need to book the tickets in advance in order to watch the show.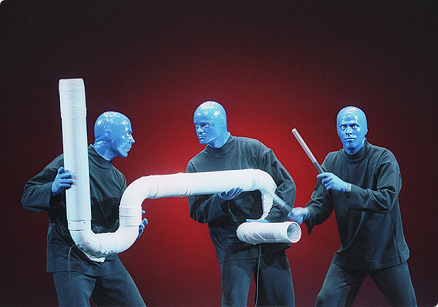 David Copperfield
If you like magic, this show is a must see. David Copperfield has been hailed by critics and audiences alike as one of the top illusionists in the world. He has been a popular figure in Las Vegas for many years and his performances still attract many.
David Copperfield's magic shows consist of many illusions, from simple coin and cards tricks to machines that allow him to walk through walls and disappear. His show often contains audience interaction, storytelling and comedy, which provide a wholesome entertainment experience to the viewer. You can watch David Copperfield's magic show at the Hollywood Theatre in MGM Grand. Book your tickets early to get better seats.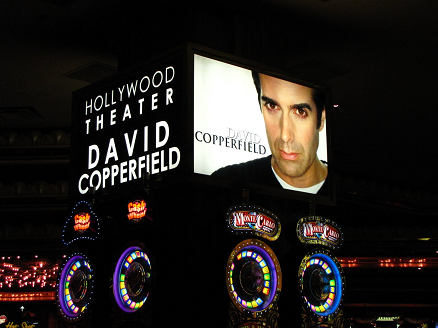 Jersey Boys
Jersey Boys brings you one of Broadway's biggest success stories. The musical show follows the lives of USA's most famous pop music groups- Frankie Valli and The Four Seasons. Jersey Boys is a musical phenomenon that tells a story about four kids who rise to stardom by giving great electrifying performances. The show features famous classic hits such as 'Can't Take My Eyes Off Of You' and 'Sherry'. Jersey Boys is presented at The Palazzo and show timings keep changing. As it is one of the most popular shows in Las Vegas, you need to book the tickets beforehand.
Jubilee
Jubilee is perhaps one of the oldest popular shows in Las Vegas. It opened in the city more than 25 years ago and has been a hit among visitors ever since. Jubilee is featured at the Bally's Hotel and Casino. The show features show-girls in vibrant costumes and lavish getups that were designed by Bob Mackie, a famous fashion designer. The Jubilee show gives you an insight into what Vegas city is originally famous for. Las Vegas guarantees you an experience of a lifetime during your visit. You can find top class bars, hotels, casinos, discos, and restaurants along with spectacular range of shows to keep you entertained in the city.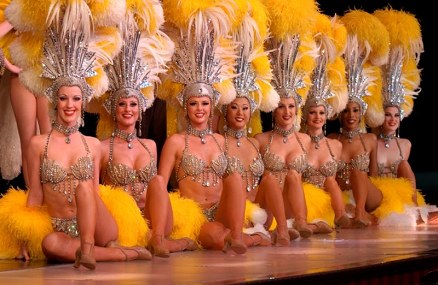 If you find this page helpful, share it.
Related Posts