Pattaya Attractions | Things To Do And See

Things You Have Got to Do and See When in Pattaya
The vast majority of Pattaya attractions provide you with an enriching experience. Almost every destination in Pattaya lets you take away something from it – a wonderful memory, a learning experience, a mind boggling piece of information, you name it, and Pattaya will show it.
Below are the major Pattaya attractions and the most gratifying demand that deserve a special visit.
Ripley's Believe It or Not 

The Ripley's Museum in South Pattaya will no doubt impress you! Drawing its inspiration form the Believe It or Not books by Robert Leroy Ripley, the Ripley's Museum houses several mind-boggling galleries in excess of 300 and is located at the Royal Garden Plaza in South Pattaya.
One of the major Pattaya attractions for tourists, this museum will make you question if you have seen all there is to see in life. Apart from the main museum, Ripley's Believe It or Not also accommodates a 4D moving theatre, the wax museum of Madame Tussads, the infinity maze, and Ripley's haunted and scream adventure. Discover mystifying, shocking, and awe-inspiring facts about this world and its inhabitants at the Ripley's and share it with your friends when you return home.
Underwater World Pattaya
Deemed one of the largest and state-of-the-art aquariums of the world, the underwater world Pattaya is one fascinating experience worth a visit. It includes an underwater tunnel and you see Giant Siam, sharks, rays, and other aquatic creatures floating above your head. The underwater World is one of the most premium Pattaya attractions and it lets you discover the riches of deep oceans and bays.
Mini Siam
While Ripley's Museum will make you question if you've seen it all, the Mini Siam will help you see all of the world's major tourist attractions as well as all of the major attractions in Pattaya. Forget about seeing the world in 80 days, take a trip to Mini Siam and you'll see the world in only a few hours.
Sanctuary of Truth
The Sanctuary of Truth is one of those Pattaya attractions that make you think about the true meaning of life and other things that have your attention. It is nothing short of an architectural marvel, an exquisite amalgamation of art, religion, and philosophy.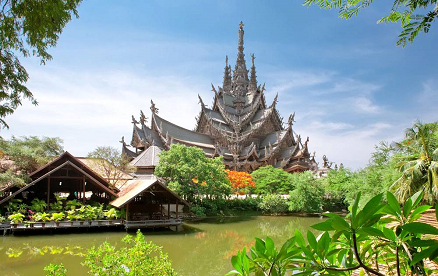 If you find this page helpful, share it.
Exotic things to do in Pattaya
The leading Pattaya attractions include not only places to visit, but things to do that you couldn't do back at home. Here are the top five attractions in the category of things to do:
Change your perception about transgenders at the truly breathtaking Tiffany's Cabaret Show.
Learn the benefits of harmonic coexistence from the Bengal tigers, pigs, and dogs at the Sriracha Tiger zoo. Remember to meet and feed exotic birds and animals also present at the zoo.
Have your "walk to remember" at the Pattaya Walking Street and relish its nightlife.
Treat your taste buds with the mind-blowing street food.
Have the most memorable shopping experience of your life at the Pattaya Floating Market.
Related Posts