Westgate Las Vegas Resort and Casino

The Westgate Las Vegas Resort and Casino
Situated next door to the Las Vegas Convention Center. The internationally famed Las Vegas strip is just a block away from the casino. The establishment is known for its finer offerings and amenities. It has an unique mix of vibrating nightlife and superb restaurants.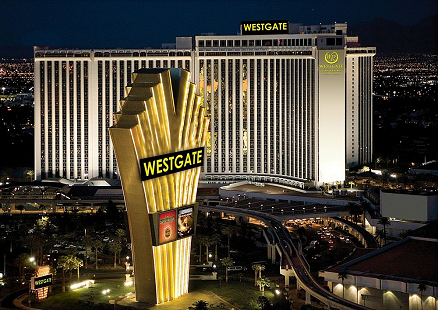 Rooms
The Westgate Las Vegas Resort and Casino has a variety of welcoming and spacious hotel rooms. These units exude a calm and relaxed atmosphere while continuing to maintain an easy access to the pulsating excitement of Las Vegas Strip.
Premium rooms: These rooms are spacious and ultra modern. Guests enjoy 400 square feet of heaven and up to four people can stay in each room. Each room offers stunning views of the Las Vegas Country Club or of the Las Vegas Strip. Every room has two double beds or one king bed and comes with 37 inch flat screen television. Coffee maker and refrigerator come standard.
Signature rooms: These rooms at the Westgate Las Vegas Resort and Casino exude glamor. They are located centrally within the resort and offer first class amenities packaged with a dazzling setting. Windows command excellent views of Las Vegas Country Club or the Las Vegas Strip. Each unit has marble floors of imported Florentine Carrara slabs. There are 60 inch LED flat screen televisions and Keurig Coffee Makers. Excellent internet access and mini-refrigerators come standard. The king room has pullout sofas encased in heavy red leather giving them a royal look.
Concierge Level Room: This accommodation type is located in the 25th and 26th floors of the Westgate Las Vegas Resort and Casino. It comes with exclusive services like Concierge Lounge access.
Deluxe One-Bedroom Hospitality Suite: These rooms offer excellent views of the Las Vegas Country Club or Las Vegas Strip. Flat screen televisions and entertainment centers come standard.
One Bedroom Hospitality Suite: These units at Westgate Las Vegas Resort and Casino are a perfect place for entertaining your friends and family. They are spread over the third, fourth and fifth floors of Westgate Las Vegas Resort and Casino. Each room covers 1,425 square feet space, with a king size bed in a separate bedroom.
Luxury One-Bedroom Suite: These units are located on 28th floor and have a soothing decor. Every unit comes with fine woven rugs, crown molding, tile and marble accents, and hardwood furniture.
Dining
The list of dining options inside Westgate Las Vegas Resort and Casino include Benihana with their delectable Japanese cuisine served exhibition style. Master chefs attend Teppan grills to prepare mouthwatering sushi appetizers and other entrees featuring fresh lobster tail and free range chicken. The Benihana is open from 5:30 in the evening to 10:30 at night.
The Fortuna is open all through the day and night. It offers an excellent wine and coffee experience featuring boutique wines and Starbucks coffee. There are two seating areas offering ample opportunities to relax and enjoy your drink and food selections. It is the ideal place to mingle with colleagues and friends. The Fortuna at Westgate Las Vegas Resort and Casino also a favorite among business travelers to ink up agreements with business partners.
If you are tired and need to rejuvenate quickly, recharge and refuel at the Perk Place. The cafe serves excellent coffee with a superb selection of delicious snacks and fresh pastries.
Activities
The attractions of Las Vegas city and landmarks are near Westgate Las Vegas Resort and Casino. Only a few minutes away is Star Trek, The Experience. The Las Vegas monorail station connects guests with other parts of the metropolis. Check-in time of the hotel is 3:00PM and check-out is before 12:00PM.
Review
Abu Dhabi »,Ajman »,Birmingham »,Brisbane »,Cairns »,Canberra »,Copenhagen »,Darwin »,Dubai »,Dublin »,Florence »,Glasgow »,Gold Coast »,Hobart »,Hong Kong »,Illinois »,Las Vegas »,London »,Los Angeles »,Lyon »,Manchester »,Marseille »,Melbourne »,Miami Beach »,Milan »,Naples »,Nashville Downtown »,New York »,Nice »,Orlando »,Paris »,Perth »,Perugia »,Ras Al Khaimah »,Rome »,Singapore »,South Carolina »,Spain »,Strasbourg »,Sydney »,Toulouse »,Uncategorized,Venice »,Verona »,Virginia »
Rating
Westgate Las Vegas Resort and Casino
The Westgate Las Vegas Resort and Casino
Situated next door to the Las Vegas Convention Center. The internationally famed Las Vegas strip is just a b…
Share and Enjoy