Hyde Park Executive Apartments Hotel | London Hotel

Hyde Park Executive Apartments Hotel
The Hyde Park Executive Apartments Hotel is a four star hotel located Westminster, London. It offers a comfortable living experience for people visiting the British capital city.  The hotel is located very near the city center and you can walk to the Lancaster Gate Tube Station  in 10 minutes time.
As one of London's principal transportation hubs, the area which surrounds Lancaster Gate Tube station is mainly populated by businesspersons and tourists. Here are some of the interesting places to visit around the hotel.
Heathrow Airport can be reached within 40 minutes by car
Green Park and Buckingham Palace are within five minutes walking distance
The tube ride takes about 10 minutes to the Big Ben, London Eye,  Houses of Parliament and the long scenic walls along the banks of the Thames.
You can reach the Knightsbridge station and the Knightsbridge shopping district via the tube
The tube also leads to the Bond Street station and the West End shopping district. Selfridge's is located in the West End.
The tube ride to the theater district and Piccadilly Service station takes less than  20 minutes
The time taken to go to Charing Cross station, National Portrait Gallery, Tate Modern, South Bank, Trafalgar Square and London ICA by tube takes less than half an hour.
A tube ride to West End theaters like Covent Garden takes about 18 minutes
The Portbello Market and Notting Hill Gate station takes less than 30 minutes to reach by tube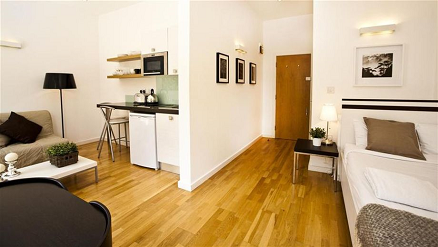 Tasteful rooms
All the apartments at Hyde Park Executive Apartments Hotel are tastefully modern. A kitchenette and a refrigerator comes are part of the standard package. An in-room dining space helps the guest to enjoy food in a proper setting and a lovely environment. .
Modern conveniences
The guests can also do their own laundry if they want to do so. A guest can use the launderette service located inside the hotel to do so. High speed internet is available  everywhere inside the premises of the hotel. Check in time is 2:00PM and check out can be done anytime prior to 11:00AM.
Beautiful location
The Hyde Park Executive Apartments Hotel is very near to Kensington Gardens. Since it is situated in Westminster, the main attractions of London, like Buckingham Palace, Westminster Cathedral, Palace of Westminster and Westminster Abbey are a very short distance away.
Review
Abu Dhabi »,Ajman »,Birmingham »,Brisbane »,Cairns »,Canberra »,Copenhagen »,Darwin »,Dubai »,Dublin »,Florence »,Glasgow »,Gold Coast »,Hobart »,Hong Kong »,Illinois »,Las Vegas »,London »,Los Angeles »,Lyon »,Manchester »,Marseille »,Melbourne »,Miami Beach »,Milan »,Naples »,Nashville Downtown »,New York »,Nice »,Orlando »,Paris »,Perth »,Perugia »,Ras Al Khaimah »,Rome »,Singapore »,South Carolina »,Spain »,Strasbourg »,Sydney »,Toulouse »,Uncategorized,Venice »,Verona »,Virginia »
Rating
Hyde Park Executive Apartments Hotel | London Hotel
Hyde Park Executive Apartments Hotel
The Hyde Park Executive Apartments Hotel is a four star hotel located Westminster, London. It offers a comfortab…
Share and Enjoy