Hotel Taurito Princess Gran Canaria | Spain Refurbished Hotel

The Hotel Taurito Princess Gran Canaria comes with two generously sized pools and a stunning beach just outside its doors. This Spain refurbished hotel is beautifully located in a serene horseshoe bay and guests are just a few steps away from the sands of the beach. Rooms of the Hotel Taurito Princess Gran Canaria provide stunning views of the ocean. The Spain refurbished hotel made a complete makeover of its suites in 2013.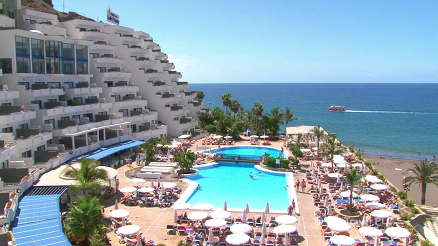 The Hotel Taurito Princess Gran Canaria is family friendly and offers a large number of facilities for its guests. There are ample leisure and sports amenities. The smart guest accommodation makes the recipe for a perfect holiday experience. Lazy afternoons can be enjoyed by the pool side or looking towards the Atlantic Ocean from the balcony. The youngest guests of Hotel Taurito Princess Gran Canaria can enjoy their own mini-club and a children's pool. This Spain refurbished hotel also has a playground with a giant dragon.
Guests who wish to keep in shape even during holidays need not fret. This Spain refurbished hotel provides an excellent gym, squash and tennis courts, and even table tennis facilities to keep patrons in shape.
Facilities inside the property
The Hotel Taurito Princess Gran Canaria lists international standard facilities like two swimming pools open to the air and sun terraces. Sunbeds and parasols come as standard. Five bars and two restaurants complete the culinary experience.
There is a television sports corner and massages can be enjoyed with prior appointment. There is a sauna and a television lounge. Hairdressers are available on request. The reception is open 24 hours in this Spain refurbished hotel and provides currency exchange services. Laundry services and car rentals can be had. Medical help is just a shout away.
The list of sports facilities includes the gym and games room. There is a diving center. Archery, aqua gym and beach volleyball facilities are present.
Hotel Taurito Princess Gran Canaria room facilities
The Spanish refurbished hotel has 405 comfortable guest rooms. All of them overlook the sea. Prospective guests have an excellent selection among Standard rooms, Superior Family rooms, Standard Family rooms, Suites and Junior Suites. All rooms come with a balcony or terrace and have climate control. Bathrooms have showers or bathtubs and rooms come with toiletries and a hair-dryer. A sofa bed is a thoughtful addition. Satellite televisions and minibars come as standard. A bathrobe, pool towel and slippers are provided to guests. Wi-Fi connection is available all over the hotel premises.
Entertainment, food and drink
The Restarante Princess is the principal restaurant. It has an outdoor terrace for guests to enjoy their food. It serves buffet type meals for breakfast. Dinner is also served in the same generous portions. There is a live cooking station which comes alive during themed nights.
The Restaurant La Choza serves a late breakfast buffet and snacks. It also provides a tasty lunch buffet. Afternoon tea can be ordered here. The restaurant gets transformed into the La Tratoria restaurant serving Asian and Italian buffet for multiple times a week.
Summertime sees the opening of the Beach Club and guests can order a selection of snacks and drinks when the sun is up. There is an extensive selection of refreshments in Pool Bar Coco Loco, Disco Bar Salon Princess, Bar Piano and Lobby Bar. Professional shows and live music are frequently conducted as a part of evening entertainment.
The Hotel Taurito Princess Gran Canaria is excellently located just four kilometers distant from Puerto Mogan and only 10 kilometers away from Puerto Rico. The Canaria Airport is 60 kilometers away.
Review
Abu Dhabi »,Ajman »,Birmingham »,Brisbane »,Cairns »,Canberra »,Copenhagen »,Darwin »,Dubai »,Dublin »,Florence »,Glasgow »,Gold Coast »,Hobart »,Hong Kong »,Illinois »,Las Vegas »,London »,Los Angeles »,Lyon »,Manchester »,Marseille »,Melbourne »,Miami Beach »,Milan »,Naples »,Nashville Downtown »,New York »,Nice »,Orlando »,Paris »,Perth »,Perugia »,Ras Al Khaimah »,Rome »,Singapore »,South Carolina »,Spain »,Strasbourg »,Sydney »,Toulouse »,Uncategorized,Venice »,Verona »,Virginia »
Rating
Hotel Taurito Princess Gran Canaria | Spain Refurbished Hotel
The Hotel Taurito Princess Gran Canaria comes with two generously sized pools and a stunning beach just outside its doors. This Spain refurbished hote…
Share and Enjoy