Holiday Inn Express Nashville Downtown

Holiday Inn Express Nashville Downtown
The Holiday Inn Express in Downtown Nashville has an enviable location in the center of the city. The property is convenient for both business and leisure travelers, offering a great value for money stay in an otherwise expensive area.
Comfort for those open to self-service
The Holiday Inn Express offers visitors a comfortable stay by offering the following facilities:
The 287 guest rooms at the Holiday Inn Express come equipped with satellite TVs and the option to order in-room pay-per-view movies as well.
The neatly laid out interiors include a desk for you to get work done, and wired internet access is also available on request.
All rooms are en-suite and bathrooms feature bathtubs so you can have a relaxed soak at the end of each day.
Tea and coffee makers as well as microwave ovens are also available. Guests travelling together in a group or as a family can request connecting rooms.
An outdoor swimming pool and 24-hour health and fitness center helps fitness conscious guests get their daily workout.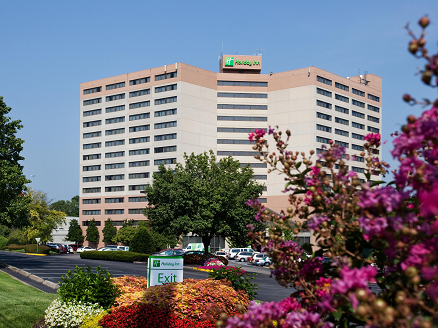 Since this is an Express property, you are expected to do a lot of things yourself. So while there may not be a laundry service, there is a laundry room where you can run the washer-dryer yourself. Dry cleaning services are however, available, with a same day service on offer. As with most Holiday Inn Express properties, you will get complimentary Wi-Fi access.
Other advantages of staying at the Holiday Inn Express
Business basics – The Holiday Inn Express offers a range of meeting room sizes that can be arranged in various configurations to accommodate between 25 and 300 people. The unstaffed Business Center with its copying, courier and fax service means you can get work done even after hours when shops in Downtown Nashville are closed for the night.
Get off to a good start with the Express Start breakfast - The complimentary Express Start breakfast is perfectly adequate to keep you going until lunchtime, though anyone used to a wider buffet spread of hot and cold food might be left wanting for a bigger variety of international options. For most travelers though, a cup of the freshly brewed coffee, oven-hot cinnamon rolls and fresh bacon, sausages, omelets and pancakes are more than adequate. Those traveling with children will benefit from the 'Kids Eat Free' policy. However, it is worth noting that besides breakfast no other meals or room-service is available at the property. Thankfully, a Downtown Nashville location means you can easily step out to try some local fare.
Convenient Downtown Nashville location – The Holiday Inn Express is well located for anyone who would like to explore Downtown Nashville. All the sights including the Music City Center, Ryman Auditorium, Frist Center for the Visual Arts, LP Field and Music Row, are all within easy reach. If you are here for a conference or event, the Nashville Convention Center is a short distance from the hotel, as is the Bridgestone Arena. An on-demand shuttle service offered if you ask. The buzzing Entertainment District of Downtown Nashville is easily accessible too, so you will have plenty to do in the evenings as well.
Review
Abu Dhabi »,Ajman »,Birmingham »,Brisbane »,Cairns »,Canberra »,Copenhagen »,Darwin »,Dubai »,Dublin »,Florence »,Glasgow »,Gold Coast »,Hobart »,Hong Kong »,Illinois »,Las Vegas »,London »,Los Angeles »,Lyon »,Manchester »,Marseille »,Melbourne »,Miami Beach »,Milan »,Naples »,Nashville Downtown »,New York »,Nice »,Orlando »,Paris »,Perth »,Perugia »,Ras Al Khaimah »,Rome »,Singapore »,South Carolina »,Spain »,Strasbourg »,Sydney »,Toulouse »,Uncategorized,Venice »,Verona »,Virginia »
Rating
Holiday Inn Express Nashville Downtown
Holiday Inn Express Nashville Downtown
The Holiday Inn Express in Downtown Nashville has an enviable location in the center of the city. The property…
Share and Enjoy