Great Southern Hotel Melbourne | Melbourne Hotel

Great Southern Hotel Melbourne
The Great Southern Hotel Melbourne is a three and half star hotel with its address in the Melbourne Central Business District (CBD). The hotel is barely a 20 minute walk from the Flinders Street Station. The CBD is home to a large number of businesses and corporate offices. It is the heart of action in the city.  The City Center is the core of the metropolis and presents an excellent option to people who opt to stay within a walking distance of all important sights.
Although Melbourne is the second largest city of Australia, it is the cultural capital of the nation. The metropolis is situated on the Port Phillip Bay, and saturated with museums, Victorian buildings, large parks, galleries and gardens. The streets are lined with trees and the abundant green spaces generate an eco-friendly and clean vibe. Melbourne is consistently been chosen as one the most livable cities in the world.  The Great Southern Hotel Melbourne is the perfect base if you are visiting the Australian city for sightseeing. It is very near to a number of local entertainment and dining hotspots.
The Great Southern Hotel Melbourne is a few minutes' walk away from the Melbourne Aquarium. The hotel staff can speak a variety of world languages and can help you in organizing your activities in Melbourne.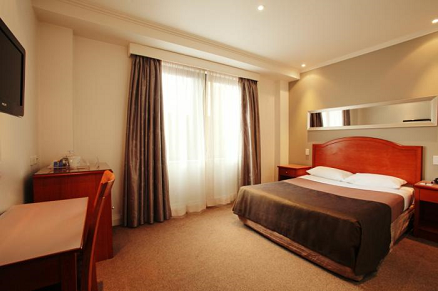 Excellent location
The Southern Cross Railway Station is only five minutes walk away from the Great Southern Hotel Melbourne. The hotel staff are quick to help the guests with all travel related queries and problems if any. Tours can be booked from within the hotel itself.
Rooms of the Great Southern Hotel Melbourne are large and modern. All rooms of the hotel are equipped with coffee and tea making facilities.  Each room of the Great Southern Hotel Melbourne has a seating area. Wireless internet access can be had from every room of the hotel.
Gourmet options
The Great Southern Hotel Melbourne has a wide spread of food and delicacies so that guests can enjoy a hearty breakfast. The hotel makes sure that the guests are out and about to see the sights and experience the varied pleasures of the Australian metropolis. In case you opt to stay in, the hotel's on site restaurant is open for a hearty lunch and a delectable dinner.. Parking is available. Check in time starts from 2:00PM and check out is before 10:00AM.
Review
Abu Dhabi »,Ajman »,Birmingham »,Brisbane »,Cairns »,Canberra »,Copenhagen »,Darwin »,Dubai »,Dublin »,Florence »,Glasgow »,Gold Coast »,Hobart »,Hong Kong »,Illinois »,Las Vegas »,London »,Los Angeles »,Lyon »,Manchester »,Marseille »,Melbourne »,Miami Beach »,Milan »,Naples »,Nashville Downtown »,New York »,Nice »,Orlando »,Paris »,Perth »,Perugia »,Ras Al Khaimah »,Rome »,Singapore »,South Carolina »,Spain »,Strasbourg »,Sydney »,Toulouse »,Uncategorized,Venice »,Verona »,Virginia »
Rating
Great Southern Hotel Melbourne | Melbourne Hotel
Great Southern Hotel Melbourne
The Great Southern Hotel Melbourne is a three and half star hotel with its address in the Melbourne Central Business D…
Share and Enjoy