Grand Midwest Tower | Dubai Hotels

Grand Midwest Tower Hotel
When you are looking for a Dubai hotel in a convenient location, the Grand Midwest Tower makes a great mid-range option. This hotel is housed in an iconic tower that is brilliantly located for visitors at the Dubai Media City & Internet City, as well as for leisure travelers looking for convenient access to the Mall of the Emirates and Wild Wadi Water Park.
A Dubai hotel in a location that's hard to beat
A stone's throw from the Dubai Exhibition and Convention Center and the Dubai Business Park, the Grand Midwest Tower works equally well for holidaymakers, shopping enthusiasts and business travelers.
The presence of a metro station nearby makes travel to other parts of the metropolis quick, easy and inexpensive. It is a short half hour drive in from the airport and about 20 minutes to the Dubai Mall.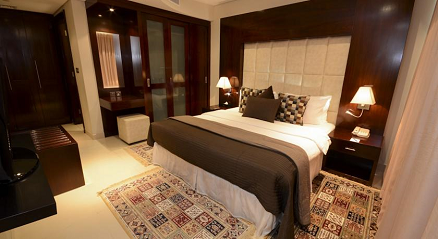 A home away from home
There are a number of advantages of staying at the Grand Midwest Tower:
Guests at this Dubai hotel can choose from a variety of apartment style accommodations, starting with a Studio Standard Apartment at one end and the VIP Two Bedroom Apartment, at the other.
All rooms come with 32-inch flat screen TVs, a washing machine, and kitchenette equipped with a microwave, refrigerator and kitchenware.
The design sensibility of this Dubai hotel has fairly universal appeal, with dark wood and leather creating a comfortable space to kick back and relax in.
A 24 hour supermarket right outside the hotel is convenient if you plan to stay for a longer spell and want to make yourself more comfortable, and perhaps cook up a simple meal or two.
Rooms on higher floors have great views of Jumeirah and the uber luxurious Atlantis resort. Lower floors overlook the motorway, so there isn't much by way of views, but this also means that taxis are easily available round the clock.
The on-site business center ensures you can stay on schedule with your work. Small meeting rooms as well as larger conference rooms are also available for use.
Food for thought
Staying at this hotel can prove to be a delight to your taste buds as well.
Breakfast and coffee - You can choose to have breakfast at the Grand Midwest Tower hotel, or step out to the coffee shop or Subway restaurant just outside this Dubai hotel. A short stroll brings you to a French bakery, if that's more your style.
International cuisine - The Grand Midwest Tower hotel, offers guests the chance to sample a mix of Emirati and international cuisine at their restaurant Zarita. Serving up a hot buffet spread every morning, Zarita also offers a buffet lunch as well as a la carte dining and room service for all meals and in-between times.
Unwinding at the Grand Midwest Tower
Take time off from sightseeing or work to swim a few laps or just lounge by the beautiful infinity pool area which gives you fabulous views of the city. Work up a sweat at the gym or let your stress melt away in the Finnish sauna, the steam room or the outdoor hot tub. If you really want to indulge yourself, the hotel has massage therapists who can knead your tension away.
Review
Abu Dhabi »,Ajman »,Birmingham »,Brisbane »,Cairns »,Canberra »,Copenhagen »,Darwin »,Dubai »,Dublin »,Florence »,Glasgow »,Gold Coast »,Hobart »,Hong Kong »,Illinois »,Las Vegas »,London »,Los Angeles »,Lyon »,Manchester »,Marseille »,Melbourne »,Miami Beach »,Milan »,Naples »,Nashville Downtown »,New York »,Nice »,Orlando »,Paris »,Perth »,Perugia »,Ras Al Khaimah »,Rome »,Singapore »,South Carolina »,Spain »,Strasbourg »,Sydney »,Toulouse »,Uncategorized,Venice »,Verona »,Virginia »
Rating
Grand Midwest Tower | Dubai Hotels
Grand Midwest Tower Hotel
When you are looking for a Dubai hotel in a convenient location, the Grand Midwest Tower makes a great mid-range option. Th…
Share and Enjoy