Caesars Palace Classic Hotel Las Vegas

Caesars Palace Classic Hotel
The Caesars Palace Classic Hotel is on the Las Vegas Strip and its 5 star rooms offer guests a stunning panoramic view of the city. It is just a 5 minute leisurely walk away from The Colosseum and has a total of  3348 luxuriously furnished air conditioned rooms.
General Facilities
Guests of Caesars Palace Classic Hotel enjoy unlimited access to the hotel's in-house gym, swimming pool, massage and beauty center, Hot Tub and Sauna Bath, outdoor pool, Salon, and Jacuzzi facilities. A visit to the nightclub can take care of all your partying needs. Guests of the hotel can also enjoy room service. Non-smoking rooms are available for guests who are particular about such details. The rooms are well equipped with a television, a choice of movies and strategically placed vending machines that entertain the guests.
Business Visitors
Business visitors can take advantage of the hotel's business center, 24 hour reception, currency exchange, safe-deposit box, meeting rooms, and concierge services. Photocopying and ticketing services are available within the hotel itself.
Other Hotel Facilities
Guests  can also play at the casino located inside the hotel grounds. Other games also can be enjoyed. High speed internet is available and wireless internet can be accessed anywhere within the hotel grounds.
Caesars Palace Classic Hotel is located at 3570 Las Vegas Boulevard South, Las Vegas Strip, Las Vegas. It is a 10 minute walk away from The Grand Canal Shoppes and 20 minutes' distance from the Guggenheim Hermitage Museum, The Mirage and from the Forum Shops at Caesars. Check-in and check-out times are 3:00 PM and before 12:00 PM respectively.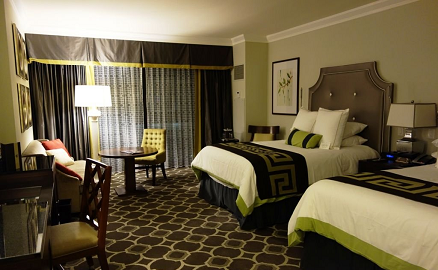 Review
Abu Dhabi »,Ajman »,Birmingham »,Brisbane »,Cairns »,Canberra »,Copenhagen »,Darwin »,Dubai »,Dublin »,Florence »,Glasgow »,Gold Coast »,Hobart »,Hong Kong »,Illinois »,Las Vegas »,London »,Los Angeles »,Lyon »,Manchester »,Marseille »,Melbourne »,Miami Beach »,Milan »,Naples »,Nashville Downtown »,New York »,Nice »,Orlando »,Paris »,Perth »,Perugia »,Ras Al Khaimah »,Rome »,Singapore »,South Carolina »,Spain »,Strasbourg »,Sydney »,Toulouse »,Uncategorized,Venice »,Verona »,Virginia »
Rating
Caesars Palace Classic Hotel Las Vegas
Caesars Palace Classic Hotel
The Caesars Palace Classic Hotel is on the Las Vegas Strip and its 5 star rooms offer guests a stunning panoramic view o…
Share and Enjoy