Bayview Boulevard Sydney

Bayview Boulevard Sydney offers 270 guest rooms with spacious rooms with scenic views of Sydney Harbour Bridge or the city skyline, Bayview Boulevard is just 5 minutes' walk from Hyde Park. It features a fitness centre, sauna and a restaurant and bar.
Centrally situated in Sydney's CBD, Bayview Boulevard Hotel is surrounded by shopping and entertainment districts. Located on William Street, this hotel provides easy access to the popular spots of the town, such as Parliament House and Hyde Park Barracks. Bayview Boulevard Sydney features a sauna. Other amenities include a coffee shop/café and a bar/lounge. Televisions come with cable channels. Guestrooms also feature refrigerators, air conditioning, and minibars.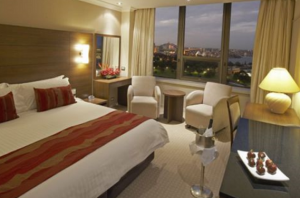 Bayview Boulevard Sydney Address: 90 William Street, Sydney, Australia
Review
Sydney »
Rating
Bayview Boulevard Sydney
Bayview Boulevard Sydney offers 270 guest rooms with spacious rooms with scenic views of Sydney Harbour Bridge or the city skyline, Bayview Boulevard …
Share and Enjoy