Cocoa Beach Family Vacation And Accommodation | Cocoa Beach Florida Hotels

Family Vacation Guide in Cocoa Beach Florida
To have an enjoyable vacation, it is important to plan your Cocoa Beach accommodation before you travel to the place. By giving you a peek at what you can do and see at Cocoa Beach, and by reviewing two popular Cocoa Beach Florida Hotels, we will help you make your vacation a lot more fun and stress free.
Cocoa Beach Florida
Cocoa beach is a small coastal city in Florida with a population of less than 12,000 people, according to the last US census. The main draw to this city is the beach. This beach is hallowed ground for surfers. Ron Jon's, along this beach, is one of the biggest 'surf shops' in the world, attracting close to two million customers every year. Other than the actual beach, the other places of interest are:
The Cape Canaveral pier, now known as the Cocoa Beach pier, is an 800 meter long pier extending into the sea. It makes for a relaxing walk into the ocean.
Space Coast Segway tours is a guided tour along the coast and the port.
Gregory's upstairs comedy club is a place that serves good steaks and features live stand up acts by artists around the city.
The Cocoa Beach brewing company is a small home run brewery that serves a good in-house brew and a few other 'guest beers'. It is a small and comely place.
The Kennedy Space Center is another attraction that is not too far from Cocoa Beach.
Merritt Island reserve is an untouched 40 mile stretch of reserve that offers visitors a chance to observe thousands of unique plants and animals.
There are many such off the coast islands that have pristine beaches and offer a chance for quite relaxation or a day of fishing.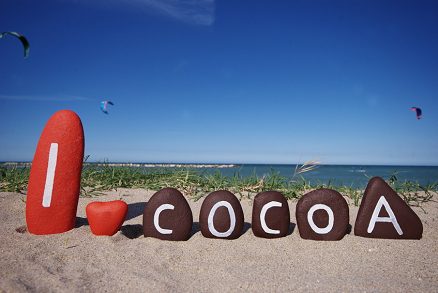 Cocoa Beach Florida Hotels
Cocoa Beach is primarily a tourist based city. Naturally, there are some good hotels here. Cocoa Beach accommodation is relatively easy to get throughout the year. It would, however, do you good to book well in advance. Cocoa Beach Florida hotels are generally considered to be great places to stay. They are not strictly affordable, but some good deals can be gotten out of them at the right time of year.
Four Points by Sheraton: When looking up Cocoa Beach accommodation it is not possible to skip Four Points by Sheraton. It is a well reviewed hotel and only barely a block away from the coast. The hotel staff is said to be friendly and the rooms are always kept clean. There is a Starbucks in the hotel if your need your coffee the way you like it. The unique shape of the building extends to the rooms and apart from the regular rectangular rooms there are some interestingly shaped rooms in this hotel.
International Palms Resort & Conference Center: The next on the pick for Cocoa Beach accommodation is the International Palms Resort & Conference Center. This is a beach front hotel that is close to every thing that needs to be seen the city. It is one of the most highly sought after of the Cocoa Beach Florida Hotels. The location and functionality of the hotel's large open spaces is perfect for conferences, weddings and other gatherings. There are group booking discounts for conventions and marriages. The hotel's in-house spa and pools are well suited to relax and catch a breath after a day of surfing in the hotel's very own beachfront.
Similar to these Cocoa Beach accommodation options, are many other hotels that can suit your budget. Cocoa Beach Florida Hotels and the city in general has an infrastructure that is centered around serving tourists. The people here are known for their hospitality and warm friendliness.
If you find this page helpful, share it.
Related Posts