3 Days in Strasbourg | Discover Strasbourg

3 Days in Strasbourg
More popularly known as the residence of the European Parliament, Strasbourg also has numerous sightseeing opportunities in store for tourists, and many ways to discover Strasbourg. Strasbourg is where France and Germany meet on the Rhine, and where some of the best Christmas markets spring up every year. Here is a look at some places that you should not be missing during your 3 days in Strasbourg and how to discover Strasbourg the right way!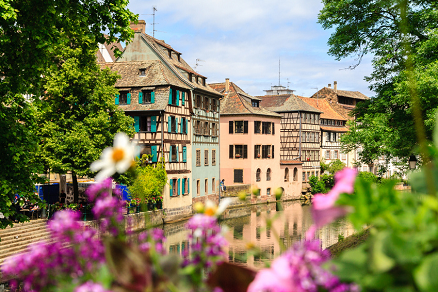 Cathédrale Notre-Dame
Strasbourg's Cathédrale Notre-Dame is a Gothic architecture masterpiece that was raised by 1439. The interiors of the the cathedral are beautifully lit with stained glass trims from the 12th – 14th centuries with jewel-like rose embellishments. The monolith raised from red sandstone has been rendered with intricate patterns and artistic finesse. A spiraling staircase leads up to the tower about 66m high, from which you get a lovely view of the entire Strasbourg.
Make sure you stop by the cathedral before dusk during your 3 days in Strasbourg, when there are very few people and you can watch the beautiful facade glow during sunset.
Palais Rohan
The Palais Rohan is referred to as a miniature Versailles, and with good reason too! Each room of the residence holds precious artifacts and art collections that takes you through many centuries, with the residence itself being an 18th century creation. The Musée Archéologique in the basement has a curated collection that ages back to the era between the Palaeolithic period and AD 800. The Musée des Arts Décoratifs, that can be found at the ground floor has rooms decorated with elaborate silverware and Hannong ceramics that give you a sneak peek of the regal lifestyle that prevailed many centuries before as you discover Strasbourg. The Musée des Beaux-Arts' on the first floor has works of El Greco, and Botticelli, to name a few.
Mulhouse
Once you have had a good look at historic sites in Strasbourg, you can try exploring a little outside the city as well. Located about an hours' drive away from Strasbourg is the Zoological and Botanical Gardens in Mulhouse. The trip is worth it, despite the fact that you have just 3 days in Strasbourg, as it has over 1300 animals secured from all over the globe. The Madagascar lemur and the Siberian Tiger are some endangered species present in the zoo that draw many crowds. When you have had a good look at the numerous exotic animal species present in the zoo, you can even take a long stroll in its lovely gardens, that have special theme zones such as iris garden, Jurassic rockery, and so on, a very nice way to discover Strasbourg.
Vineyards and wine tours
The Alsatian Plain has a wealth of vineyards speckled across its landscapes, and tourists can come participate in win-tasting sessions and guided tours, whether they have just 3 days in Strasbourg or longer. The wine route runs a length of 100 miles or longer by the Vosage Mountains' foothills, offering brilliant views to visitors who want to discover Strasbourg. Try planning your 3 days in Strasbourg trip sometime in summer so you can enjoy the many wine festivals that happen here!
If you find this page helpful, share it.
Related Posts